I have covered the site Quirky in a earlier post. It's a site that allows you to post your best inventions or ideas, and have the Quirky community vote on if it should be created.  If you get enough votes the Quirky staff creates the product and markets it for you.
You can learn more about the process here.  Quirky
Anyway they are celebrating the 5th year birthday of the site by having a sale.  You can check it out here:  Birthday sale.
Flashback Post: Save money with your Freezer  | For more tips go to: http://tiptomato.com/ | For a few laughs go to: http://funnycabbage.blogspot.com/
The Keurig Coffee maker is all the rage.  Seems like everyone I know has one.  They work great, but do have a couple of downsides.  Lets take a look.
One thing I don't like about the Keurig machine is the waste that results from each cup of coffee.  Each K-Cop is small on its own but you know what happens when you start doing the math and adding up all those used plastic K-Cups in the garbage.  Also the cost per cup is much higher than buying coffee in bulk.
Enter the Ekobrew Elite K-Cup.
This product allows you to use regular ground coffee in your Keurig.   These devices have been around for a while but most I have seen, are made very cheaply.  This one uses solid construction and has gotten great reviews.  Cost is $17 on Amazon.
Check it out here:  GizMag
Flashback post:  With all this cooking you are doing check out Parchment Paper is Your Friend| For more tips go tohttp://tiptomato.com/ | For a few laughs go to: http://funnycabbage.blogspot.com/
It's very cold out in many parts of the country right now.  How would you fare if your car went off the road and ended up in a ditch or ravine with no help in sight for hours, or worse overnight?  Today's tip will help you be prepared.
Being prepared in this situation is mostly common sense; have a full charge on your phone, have a car charger, blanket, water.  But do you even have those things with you?  Here are a few lists and there are some interesting things on them.  A few stood out:  A syphon for getting gas from another car.  Never thought of that one.  Considering all the junk most of us have in our trunks, this small item could be a life saver, even in good weather.  I am getting one asap.
Here are the lists:
And you can even buy a kit:  Amazon
Flashback Post: Waterproof wireless speakers | For more tips go to http://tiptomato.com/ | For a few laughs go to: http://funnycabbage.blogspot.com/
Do you have a small child or grandchild that likes to grab your phone and play?  Santa Google has given you an early Christmas Present.  It's a game you can play but its kind of hidden.
To find the app you just open Google maps on your phone and open the menu.  As long as you have the latest update, you will see it on the bottom of the menu list.  Its called Santa's Village.  It's actually a website and the app just takes you to the site.  You can also access it on your computer at http://www.google.com/santatracker/
There are simple games to play, one for each day of the month, just scroll left and right and click on the bubble icons that bounce up and down.  Or click on the circle with Santa in it in the upper left.  This brings up the calendar for the month with different games for each day.
There is also an app for android that works similarly.  Download it here.
Have fun.
Props to me
Still have some Turkey and stuffing in the fridge.  Better do something with it quick.  Here are some ideas to help you use of the leftovers, and have something new and different.
Great Balls of Stuffing
This one sounds really great.  It combines two of my favorite things, stuffing and deep-frying.  Basically you make balls of stuffing, squeeze a piece of fresh mozzarella into it, coat with panko, and deep fry.  Yes that sounds very good.
Here is the full recipe, thanks to Rachel: balls of stuffing
Turkey Soup
Not very original but if you have never tried it, it really is a good soup.
Here is my personal recipe:
Left over turkey  The carcass makes a great broth if you have it, throw it in along with what ever leftover turkey you have.  If you do not feel you have enough, head to the store and buy a thigh or Two.
1 C chopped onion
1 C chopped Celery
2 C chopped Carrots
6 cloves of garlic diced
chicken broth to cover everything ( 2 or 3 boxes)
Salt and pepper to taste
optional: 1/4 C chopped fresh Cilantro
1 chopped banana pepper
If you bought some extra raw turkey, brown it in the bottom of the soup pot with some olive oil.  Put everything else in the pot, cove with the broth, bring to a boil, then simmer for 2 hours.
Open Faced Turkey Sandwiches
What is says.  Get the recipe here from Thekitchn
Thanks to Me, Rachel Ray, and Thekitchn
Flashback Post: Passwords you can remember  |  For more tips go to http://tiptomato.com/  |  For a few laughs go to: http://funnycabbage.blogspot.com/.
It's just about that time.  Watch this short video from thekitchn.  Only 1:17 long.
Clutter around the house is very stressful.  You look around and know you need to clean up, but the task can be daunting.  You need a plan!!  Today tip will help you de-clutter your home.
The site "I Dream of Clean" gives us several ideas for gifts to help our family and friends get organized.  Here are a couple of highlights:
Velvet hangers.  What a great idea, cloths do not slip off and end up on the floor.
Freedom Filer. This is an out of the box filing system.  It comes with pre-made tab labels and an instruction manual.  If you are not ready to get rid of the paper and scan everything, (another tip in the list), this is a great way to get the paper in order.
To see the rest of the tips head over to: Idreamofclean
props to me
Flashback Post: Stain guide | For more tips go tohttp://tiptomato.com/ | For a few laughs go to: http://funnycabbage.blogspot.com/
Is this you? You charge your phone on your nightstand, but always have to reach down on the floor to find the end of the charger, to plug your phone in.  Problem solved.
Its called Cordie.  Just press the end of the cable into  cordie, and you are all set.  Invented by Stephen Stewart with the help of an online company called Quirky.  Check out the Quirky page for the product here.  You can buy them on Amazon, or right from the Quirky site on the link above.  Only 10.00 bucks.  A deal.
Quirky is a pretty cool site/company.  Basically you can come up with an idea and if the online community votes for the idea, it will get reviewed by the Quirky staff, and could become a real product.  It's a bit more involved than described but you get the idea.  Good old Stephen has made over $200,000 from this one idea.  Not bad.
Props to me and Lifehacker
Flashback Post: Save money with your Freezer  | For more tips go to: http://tiptomato.com/ | For a few laughs go to: http://funnycabbage.blogspot.com/
Continuing on our theme leading up to turkey day, some tips from Bon Appetit's Editor-in-Chief, Adam Rapoport.  The article includes a link to their Thanksgiving app.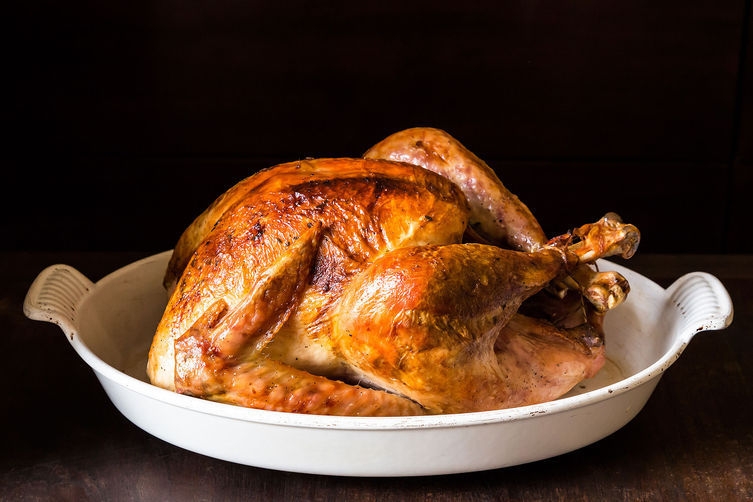 His main point is that you have to me military in your planning and attention to detail, especially with the schedule.  I think we all have been to Thanksgiving when things have gone awry.  Another tip I think is key is cooking the white meat and dark meat separately.  I know this eliminates seeing the above beautiful bird when cooked, but how many of us have had dry white meat?  And how long do we get to see the finished bird before carving anyway.
The Thanksgiving app is for ios only, but does has lots of great info you can check out on the go.
Here is the article via Food52:  Turkey Tips
Props to Food52 and Bon Appetit'
Flashback Post: A new health app  |  For more tips go to http://tiptomato.com/  |  For a few laughs go to: http://funnycabbage.blogspot.com/.
Are you tired of hunting through your backpack or purse for a set of keys or some other small object.  Here is a quick way to find that item.
Paracord is thin rope made of nylon.  You can find out a lot more about paracord on wikipedia.    If you are a survivalist or go hiking you are supposed to wear one of these:
It's a paracord bracelet that has up to 70 feet of usable paracord.   So if you are caught in the middle of know-where and you need to catch food to survive you can make a snare.  Here are some other survivalist uses, like using it for a Tourniquet.  Outdoorlife.com
Back to the point of the post, if you buy some brightly colored paracord and put about 6 inches on the item you want to keep track of.  That will help you find it in the bottom of your purse or backpack. Use a different color for different items.  Give it a try.  You can order it here: Mr. paracord  (of course)
Props to me.
Flashback Post: Stain guide | For more tips go to http://tiptomato.com/ | For a few laughs go to: http://funnycabbage.blogspot.com/